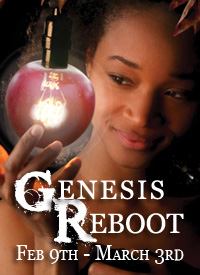 Last night, we had the privilege of seeing Genesis Reboot at the Synetic Theater. In one word, it's brilliant.
The mention of Synetic often brings up superlatives amongst those who love them in the DC theatre community — and sometimes antipathy in those who don't, who decry their theatre without words as being dance, not theatre (though I really argue that dance can tell stories just fine — as Synetic always proves. You see my side in the argument). Well, toss that argument aside, because theatre parents extraordinaire Paata & Irina have allowed Ben Cunis, his brother Peter Cunis, and other co-conspirators (such as Clint Herring from Hamilton Carver fame, among many other things), to do something that no one can argue is brilliant, original, theatre. And it even has words.
It was unsettling, after three seasons of going to see shows there, hearing actual dialog coming from that stage. It almost seemed a taboo being broken — you could almost feel the audience shifting with discomfort — that this was not right, that this was not what they came here for. But as it unfolded, and the discomfort of dialogue faded away, what came to life was amazing. Ben (who authored the script with his brother as well as directing the show) and his actors and designers took the power of the tradition of Synetic (there was no way, outside of the dialog, of ever thinking this was NOT one of their shows, from the staging, to the lighting, music, costumes, and of course the breathtaking ability of those actors to speak in the language of movement), and built something mighty on top of it with their words.
And it was not a small project – just re-imagining the creation myth of one of the worlds largest religions, that's all — and doing so in a manner that portrayed that initial death of innocence in a manner many times more gut-wrenching than any church scripture could ever be. You leave the theater holding back tears, feeling punched in the gut, and yet grateful for having seen such a great creative transformation and journey. And, obviously, you want more.
This play is part of an experimental series by Synetic Theater. As such, it is only running for a VERY short time. I urge you to stop what you are doing right now, look at your calendar, and buy tickets immediately. Due to other bookings, I don't think there is any way that they can hold it over, and after the crowd reaction last night, I'm hoping that it will be sold out for most of the run of the show. Do not miss this.
Show description here: http://www.synetictheater.org/mainstage/genesisreboot.html
Tickets here: https://www.boxofficetickets.com/go/event?id=142635